Life Style
Mustafa DEBU Performed at the SSA 2019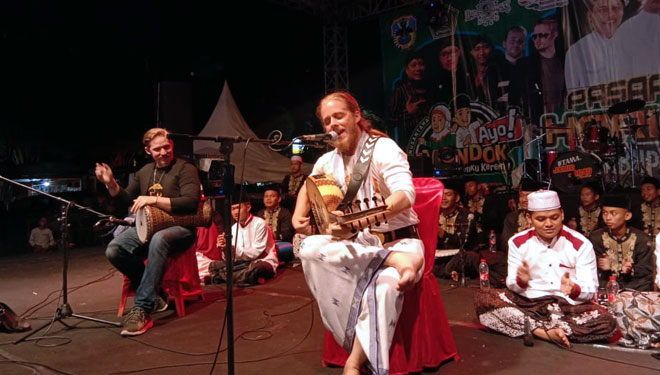 TIMESAUSTRALIA, SAMPANG – Kumayl Mustafa Daood a.k.a Mustafa DEBU took everyone's heart away with his performance on the Sampang Sepoloh Areh 2019 (SSA 2019). He performed on the stage followed by several local artist of Madura on Monday (11/11/2019).
"Mustafa is a well known artist with his Islamic albums, and he is the perfect singer to entertain all these beautiful people," The Project Director of SSA 2019, Cak Suryo said on Sunday (10/11/2019).
Mustafa and his music group 'DEBU' is an American musician which bring Sufi to their music. They were known as the 'Dust on the Road' by American. And here they turned their name in to local language DEBU (Dust) that is more familiar to the local people.
They move in to Indonesia on 1999. The players were actually the parents of all the musician on the group right now. Since now they are aging they give their talent and place to their kids.
Their first album in Indonesia 'Mabuk Cinta' which was released in 2003 in Arabian and Bahasa Indonesia was booming at it's time. It made the group well known around the country and reach its popularity.
The Sampang Sepoloh Areh 2019 (SSA 2019) which is held in Wijaya Kusuma Court Yard of Sampang, Madura is planned to be held for 10 days. Several MSME and cultural performance including Mustafa DEBU were planned to entertain the visitors of the event. (*)