Travel
Marriott Bonvoy! JW Marriott Hotel Surabaya Serves the Culinary of East Java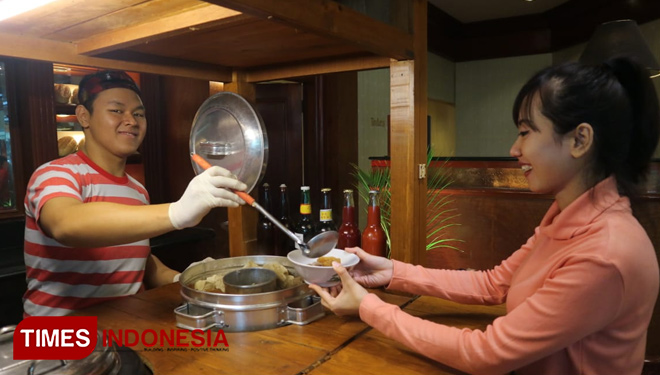 TIMESAUSTRALIA, JAKARTA – JW Marriott Hotel Surabaya presents the exclusive culinary of East Java starting from this week until 28 November 2019.
East Java is one of the provinces that has various mouthwatering culinary. This year, Marriott Bonvoy comes back with a program to appreciate the culinary from each province, which is called as Program Ayo Makan held from November to December 2019.
Meanwhile, in JW Marriott Hotel Surabaya, Festival Ayo Makan is held from 6 November to 28 November 2019.
This event is beautifully decorated with traditional 'rombong' (a wheeled food pushcart), and 'pikulan' (a rod used by the sellers to carry things). Various traditional foods and snacks, such as Mie Ayam, Lontong Kikil, Lontong Balap, Tahu Campur, Soto Ayam, and deep-fried snacks are ready to indulge your taste buds.
There will be also STMJ (Milk Egg Honey Ginger), the fresh milk, honey, ginger, blended with duck or chicken's eggs.
The Executive Chef of JW Marriott Surabaya, Chef Andri, has prepared various menu so that the guests get the chance to explore various dishes of East Java during this event.
"We expect that this event could be a good magnet to attract the hotel visitors in JW Marriott Hotel Surabaya," said Mona Cella, the Marketing Communication Manager of JW Marriott Hotel Surabaya, on Wednesday (6/11/2019).
The foods are available from 12 p.m. until 9 p.m. The visitors can enjoy the buffet lunch of dinner in Pavilion. However, they may also try the ala carte menu in Lobby Lounge.
The foods can also be taken away. Please make a reservation if you are interested in enjoying the scrumptious culinary in Marriott Bonvoy, Festival Ayo Makan in JW Marriott Hotel Surabaya. (*)