Education
Bali Safari and Marine Park: Celebrating Day of Love for National Flora and Fauna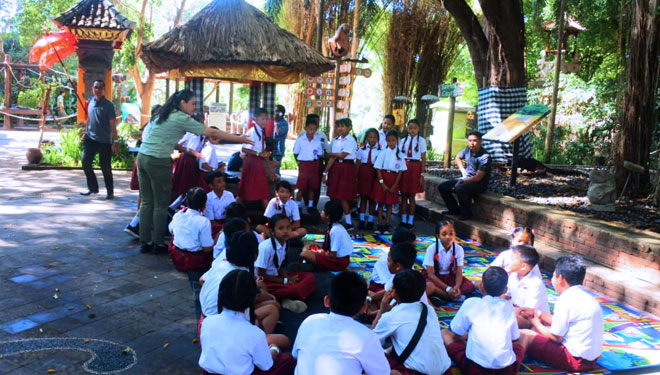 TIMESAUSTRALIA, BALI – Bali Safari and Marine Park celebrated the Day of Love for National Flora and Fauna (HCPSN) on Tuesday (5/11/2019). In this opportunity, Bali Safari and Marine Park raised the students' environmental awareness by introducing the conservation of orangutan.
According to the Indonesian Ministry of Environment and Forestry, the theme of HCPSN in 2019 is "Raising the Awareness of Love for National Flora and Fauna". Bali Safari, one of the biggest conservations in Bali, also takes a part in supporting the theme of HCPSN this year by organizing its own event.
Bali Safari Park invited 32 best students from the schools around Bali safari Park in order to raise their awareness to love the endemic flora and fauna in Indonesia by introducing the enrichment for the orangutan and distributing fruits and flowers seeds that will be planted in their schools.
The schools involved in this event are SDN 1 Lebih, SDN 1 Medahan, and SDN 1 Serongga. All the students were introduced to the baby orangutan, Bonbon, George, and Cherry in Bali Safari.
The elementary students looked very enthusiastic in following the instruction of making enrichment for the orangutan. They were also allowed to watch the enrichment being used by the orangutan.
From this activity, Bali Safari and Marine Park expected the students to raise their awareness to conserve orangutans and their habitat, as well as other endemic flora and fauna of Indonesia.
Bali Safari and Marine Park also expected the students to spread the information about conserving flora and fauna to the society.
This event started from 9 a.m. to 2 p.m. WITA (Indonesian Central Time). The students were invited to help the staff make the enrichment and given the information about Bali Safari & Marine Park.
Then, the students were given the information about the orangutan conservation and ecosystem, as well as the important role of orangutans in Indonesian forests.
Next, they were invited to see the animal education, safari journey, and safari poo paper tour. (*)