News
Government of Kediri Held Selomangleng Performance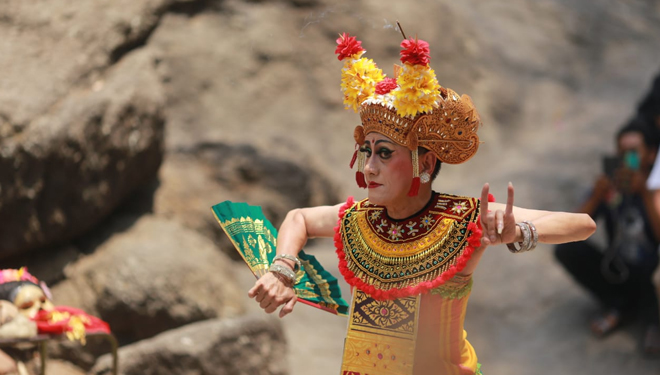 TIMESAUSTRALIA, KEDIRI – Government of Kediri and the Department of Culture, Tourism, Youth, and Sport (Disbudparpora) held Selomangleng Performance with the title of "Majestic Panji Sekartaji" in the area of Selomangleng Cave, on Sunday (20/10/2019).
Nur Mukhyar, the Head of Disbudparpora Kediri, said that this Selomangleng Performance invited several international and local artists and humanists.
This performance had combined both traditional and modern concepts. "We collaborate any kinds of art from Kediri with the arts from other regions and countries. We hope Kediri could have a performance with international level in the near future," he said.
Recently, Kediri had just received a national cultural award. Therefore, it becomes a new responsibility for people in Kediri to keep developing and maintaining the arts and cultures of Kediri.
"This performance has three purposes. First, it aims to educate young generations about the tradition and the culture of our country. Second, we want to make this event into an international event. Third, we hope this event could improve our economy." He said.
This event brought the history of the unity of Jenggala Kingdom and Panjalu Kingdom. The setting was Kediri in its old time, depicted as a metropolis city.
Not only did it perform traditional dances, but this event also performed the collaboration of wushu and barongsai. There was musical performance presented by Sri Encik Krishna and Bagus Mazasupa from Yogyakarta, Rudolf Puspa theatre from Jakarta, and Veteran Satoe Theatre from Kediri.
Their performances had enlivened and completed this wonderful event held by the Government of Kediri. (*)