Life Style
IndUniverse Collaboration Concert, a Wonderful Piano Concert by International Indonesian Pianists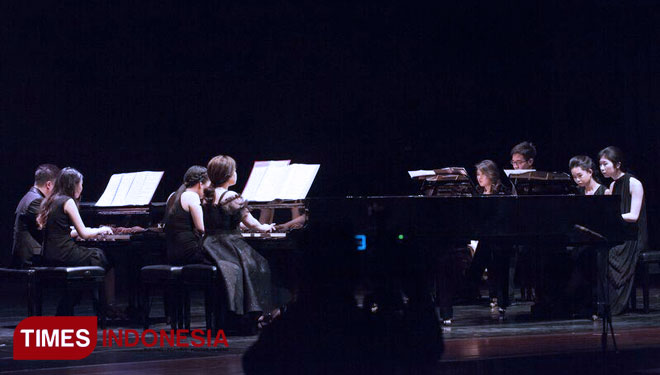 TIMESAUSTRALIA, SURABAYA – Eight Indonesian pianists from Surabaya which is already well known as world's musician held a concert at the Cak Durrasim Hall Surabaya entitled the IndUniverse Collaboration Concert.
All of them are those pianists who have their career at foreign country like United States of America, Australia a d Canada. The 8 pianists are Lifia Teguh, Kevin Rahardjo, Ayunia Indri Saputro, Gillian Giraldine Gani, Jeneffer Widjaja, Jesslyn Julia Gunawan, dan Aloysius Albert Oenaryo.
On the occasion, Lifia Teguh which also a composer and arranger presented lits of fusion song. She mixed the local music with the classical to modern one. She even presented a performance of 8 pianists all together at a stage.
Lots of indonesian national song like Yambo Rambe Yamko, Ampar-ampar Pisang, Cublak-cublak Suweng, Manuk Dadali, and Tanah Airku performed on the stage on Saturday night (10/8/2019).
"I arranged back the song. And its because I miss this country so much lots of time when I was in the United States," Lifia Teguh said in IndUniverse Collaboration Concert Surabaya.(*)