Travel
Introducing the Dvarapala, 'Totok Kerot' in Kediri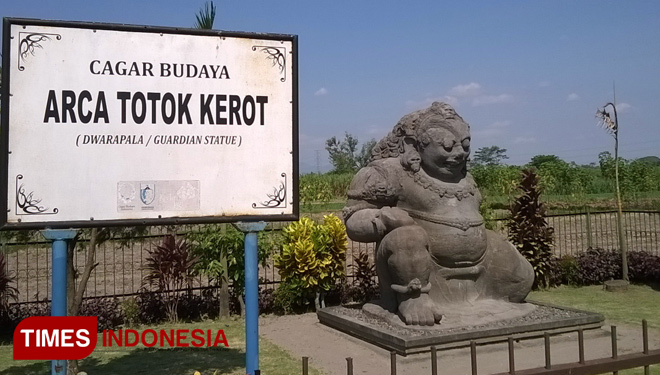 TIMESAUSTRALIA, KEDIRI – When you are visiting Kediri, do not forget to visit the cultural heritage named Totok Kerot.
This Dvarapala is located in Bulu Pasar Village, Pagu sub-district, Kediri, around 3 to 4 km to the north from Simpang Lima Gumul, Kediri.
This cultural heritage is located in the field area of the local residents that is used to plant crops, such as corn, rice, sugarcane, and so on.
Cited from travellersblitar.com, this Dvarapala derived its name from the character of Dewi Surengrana who was always grumpy, which is also known as methothok in Javanese, and grinding his teeth, which is also known as kerot-kerot in Javanese. Her grumpiness is the sign of her hatred and hostility towards Dewi Sekartaji.
Both Dewi Surengrana and Dewi Sekartaji were the wives of Panji. Due to her bad attitude, Dewi Surengrana is called as Thothok Kerot. After her death, Dewi Surengrana is represented as Totok Kerot.
At a glance, Totok Kerot does not have any difference with the Dvarapala in Singosari, Malang. However, this Dvarapala has lost its left hand.
"The statue was buried and it was discovered in the era of Dutch colonialism. However, they did not manage to keep the statue intact," said Sumarji, one of the local resident.
Totok Kerot does not hold a mace like the other Dvarapalas. It might be possible that the missing hand actually holds this weapon.
Totok Kerot in Kediri is the cultural heritage from the era of King Sri Aji in Lodaya, Pamenang Kingdom. (*)