News
'Frozen Bromo' Phenomenon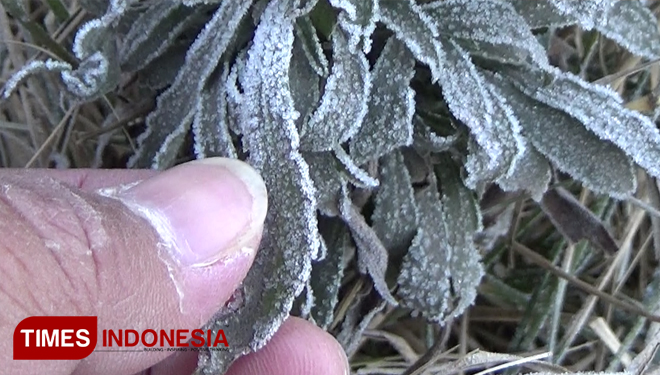 TIMESAUSTRALIA, JAKARTA – The annual phenomena called Frozen Bromo in Mount Bromo, Probolinggo, East Java, occurs due to certain conditions, such as the drastic decrease of temperature and the wind that marks the climate change from rainy season to dry season. Besides, the temperature at the peak of Mount Bromo is really low which lead to the phenomenon of Frozen Bromo.
This phenomenon occurs in some locations, such as the area of Mount Bromo and Mount Semeru. In Bromo, this phenomenon occurs at the Sea of Sand, Whispering Sand, Savana, even in the area of the local residents' fields.
Meanwhile in Semeru, this phenomenon occurs in Ranu Pane, Ranu Kumbolo and Kalimati.
"There is ice layer at the peak of Semeru," said the Forest Ecosystem Management (PEH) of TNBTS, Ariyanto, on Friday (21/06/2019).
This phenomenon is caused by the drastic decrease of the temperature which usually occurs at 1 a.m. to 5 a.m. This temperature decrease is caused by the high wind pressure which could freeze the dew drops into ice crystals. This phenomenon usually occurs in June to August and usually reaches its peak in July.
According to Ariyanto, the extreme temperature change could affect the residents' crops.
"Most of the fields are affected by this phenomenon which could make the crops die. This happened last year in Ranu Pane, Argosari, and Ngadisari," he said.
On Friday morning, the temperature in Ranu Pane lowers to 5 degree Celcius. There are ice crystals on the leaves. On Wednesday (19/06/2019), thin layer of ice could be seen on the outer part of the hikers' tents in Ranu Kumbolo.
However, this phenomenon becomes a unique tourist attraction in Mount Bromo. Therefore, this annual phenomenon is always expected by the visitors. (*)