Travel
Get Closer to Sila, a One Year Old Tapir at Secret Zoo Jatim Park 2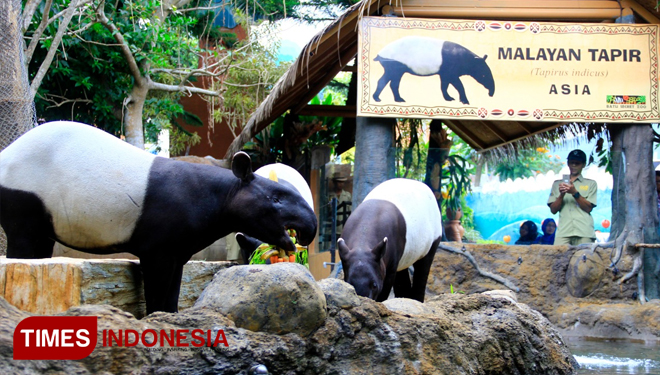 TIMESAUSTRALIA, MALANG – Secret Zoo Jatim Park 2 added one of their member of family a year ago. Sila, a beautiful baby tapir was born on this zoo around a year ago which had become a good news for the visitors.
This zoo has prove that they could take care of their animals properly by the birth of this Tapir. Now they have 4 tapirs, 1 Male and 3 female.
"They were taken to this zoo by BKSDA fir protection since at they were taken as pest at their original place. It was a sad story, yet we are so proud and happy that Sila came to us after all what they had been through," the Chief of Secret Zoo Vet, drh Prista Dwi Restanti said.
This one year old carnivore animal which now weight more than 160 kg has become one main attraction for the visitors. It has white spot on her body which make it look more exotic.
This exotic animal was catefiruzed as a rare animal in the world. It has a long nose almost like elephant to help them reach tall leaves or fruits. They have a bad sight yet with a strong nose which could smell somebody's appearance from the distance.
What do you think? Interesting isn't it? You could see Sila and find her at the the Secret Zoo di Jatim Park 2 and find out more about tapir and their story on this site. So, What are you waiting for?