Travel
Ayam Taliwang Cooking Competition at Qunci Villas & Resort Lombok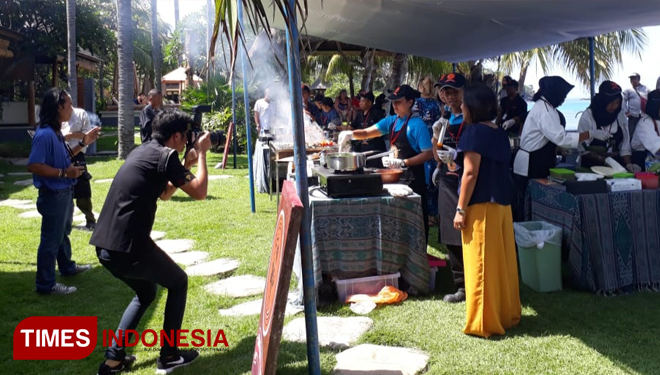 TIMESAUSTRALIA, WEST LOMBOK – Ayam Taliwang cooking competition held again by Qunci Villas & Resort. This activity aims to promote one of the traditional foods in Lombok.
The General Manager of Qunci Villas & Resort, Wedok Suprapti said that the Ayam Taliwang cooking competition has been held 4 times. Well, this is part of our support to promote Lombok's traditional food but internationally qualified.
"Thank God, we have won this competition four times," she said, when met by TIMES Indonesia (timesindonesia.co.id), on the location of the cooking competition on Sunday (10/2/2019). Furthermore, Wiwid (her call name), said that with the Ayam Taliwang cooking competition, it is hoped that it will produce reliable chefs, especially for traditional Lombok cuisine.
The cooking competition entitled "Taliwang Cooking Competition for Month of Love" took place at Qunci Villas & Resort, Jl. Raya Mangsit - Senggigi Km. 5, Batu Layar, Senggigi, Batu Layar, West Lombok Regency, NTB (West Nusa Tenggara).
"So it isn't only Ayam Taliwang, in the future we will also hold other traditional Lombok cooking competitions," GM Qunci Villas & Resort, Wedok Suprapti added. (*)