Education
The Teachers in Bondowoso District Learned to write Books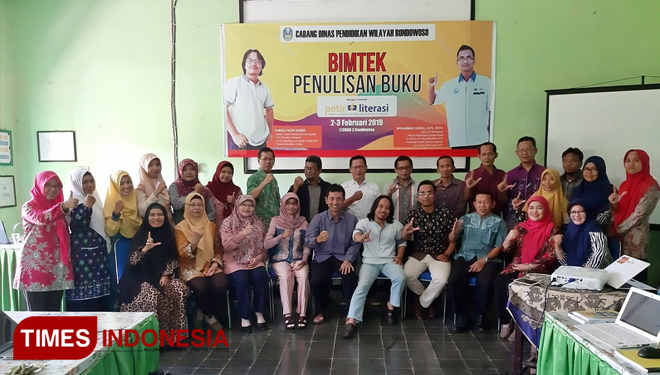 TIMESAUSTRALIA, BONDOWOSO – The Teachers from Senior High School (SMA) / Vocational High School (SMK) in Bondowoso District learned to write books. The activity which formed in the Technical Guidance (Bimtek) event held by the Branch of Education Department Bondowoso District. Activities that lasted for two days, starting from Saturday to Sunday at the State Senior High School 3 Hall (3/2/2019) and joined by at around 25 teachers.
The event was opened by the Branch Head of the Education Department Bondowoso District, Drs. Mahrus Syamsul, MM.Pd. In his speech he told the beginning idea of ​​the activity, and he hoped that from the Writing Book Technical Guidance activity must produce teacher's book that having ISBN.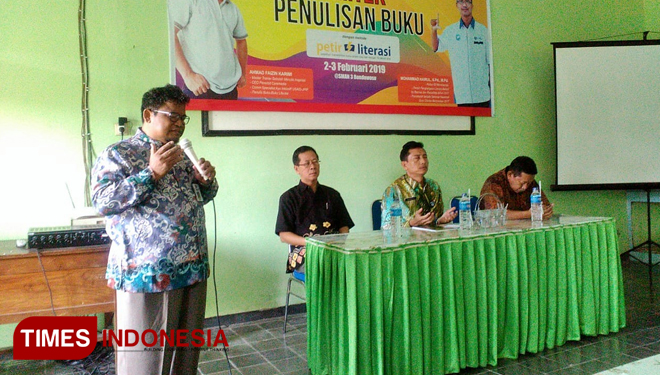 While the trainers in the Technical Guidance, Chairperson of The Indonesian Teachers Association (IGI) Bondowoso and national literacy activists who is productive in writing, Mohammad Hairul, S.Pd., M.Pd., and the Inspirational School Trainers, and CEO of Caremedia Publishers, Ahmad Faizin Karimi.
Hairul explained, in this training, trainers used the literasi kilat (fast literacy) method, namely writing training in 2 days with 10 fast techniques.
"Through this technique, participants will be guided through step by step, until it becomes a full textbook," he explained.
Meanwhile, Faizin confirmed the statement of the Branch Head of the Education Department Bondowoso District, namely that the teacher should be able to have a book having ISBN. He claimed to be ready to help the process of publishing the book.
"The editing, cover design, ISBN management, and printing of books by participants will be done by the Caremedia publisher," he explained.
Joko Wiseno, a participant from State Senior High School 1 Grujugan felt very assisted by the method used in this training. "At first I imagined, writing is difficult. It turns out that it can be solved step by step using the correct method. We are optimistic that we can publish our book from this training, "said Joko.
The event was also attended by the chairman of the Bondowoso District State Senior High School MKKS, as well as the committee chairman, Drs. Jarimin, M.Pd., and MKKS Chairman of Bondowoso District State Vocational High School, Drs. Muh. Hamka, MM.Pd.
The Book Writing Technical Guidance program, which attended by a number of teachers from high schools in Bondowoso Regency, runs well. The participants were enthusiastic in learning to write books. (*)