Life Style
Miracle Face Contouring, the Art of Sculpting the Ideal Face Contour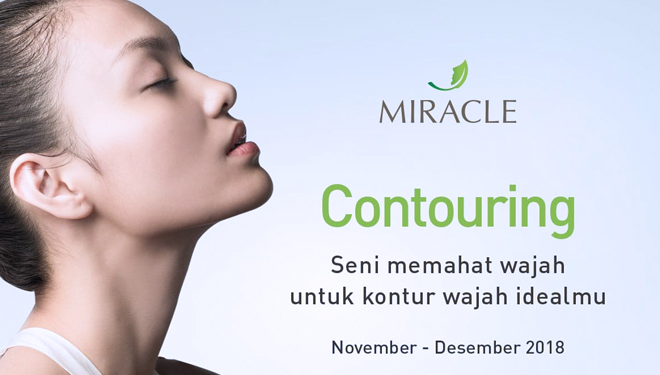 TIMESAUSTRALIA, JAKARTA – Who does not know Meghan Markle, the wife of Prince Harry from British royal family? Currently, she is the influencer of world beauty trends. Her face becomes the aesthetic trend in America. There are so many people there that want to have a face like hers. The shape of her nose becomes the dream of many women in this world. However, is Meghan Markle's nose and face shape suitable to all the women?
Actually, every woman wants their face to have an ideal face contour and appearance. However, making a proportional face shape is not only about V-shape face or pointed nose. The factors of race and beauty ratios for face proportion should be considered to make an ideal face shape for each individual. The art of sculpting face is not merely about changing the shape of the face.
Sondang Devita Maria, the Clinic Manager of Miracle Denpasar, explained that Miracle Face Contouring is a series of treatment to make an ideal and proportional face shape in 3D.
"In Miracle, we do not only change the shape of the face, but we also consider the features of the face to make it looks proportional and natural. Here are some treatments for contouring to make your ideal face contour," she said.
Miracle Ultherapy Reshape & Contouring
Miracle Ultherapy Reshape and Contouring is the solution for the lower part of the face and chin problems, such as a big and double chin. It uses the ultrasound energy that works precisely and optimally in the deepest face layer, which is SMAS tissues (face muscles) and fat layer, without damaging the tissues around them. Say goodbye to chubby cheeks, slack skin, and double chin, that make you do not have V-shape face. The result is the firm chin and perfect face contour.
Miracle Botox for V-Shape
It uses Botulinum Toxin A (Botox), an injection that uses purified protein to relax the muscles that cause wrinkles and create a firmer skin texture. Besides, botox injection could be used to make a V-shape face and a firmer jawline.
Miracle Dermal Filler
Miracle Dermal Filler is used to fill the skin layer or add volume to certain face area by using a safe material, which is hyaluronic acid. To create an ideal face contour, the filler could be injected in the forehead, cheeks, nose, and even lips. It causes no pain and the results could be seen instantly.
Miracle Double V Shape
Miracle Double V-Shape is a treatment to create a more aesthetic and proportional face contour, especially to reshape the wide jawline. Miracle Double V-shape does not only create a V-shape effect but also lifting effect and 3D projection effect on the cheek, chin, and nose. This short treatment could create a more beautiful appearance in an instant.
Enjoy the other interesting promotions, such as 20% discount for Miracle Yellow Laser Anti Mela, Miracle Beauty Booster Series, or the purchase of Miralux Skin Bright Series products, Miralux Renew Brightening Series, or TDF C Scape (50ml) until 31st December 2018.
Benefits of Miracle Contouring:
The featured treatment such as Miracle Ultherapy and Miracle Double V-shape, are effective to create an ideal face contour.
The results could be seen instantly and there is minimum pain.
The procedure is safe and quick
Short recovery after the treatment (minimum downtime)
Create your ideal face contour by using various treatments and featured contouring products, such as:
-> Miracle Dermal Filler;
-> Miracle Botox Cosmetic;
-> Miracle Double V-Shape;
-> Miracle Ultherapy;
-> Miracle 3 in 1 Super Facial;
-> Miracle Beauty Booster;
-> Miracle Yellow Laser
Enjoy the interesting offer of various featured treatments, such as:
· 20% discount for Miracle Yellow Laser Anti Mela for every purchase of Miralux Skin Bright Series
· 20% discount for Miracle Beauty Glow Booster/Miracle Beauty Shine Booster for every purchase of Miralux Renew Brightening Series
· 20% discount for Facial (Bubble C/ Pearl Shine/Power Retinol/3 in 1 Super Facial/Oxygeneo or other Facial above IDR 700,000) for every purchase of TDF C Scape (large size) (50 ml)
Visit the nearest Miracle Aesthetic Clinic in your area and enjoy those various offers only in November and December 2018.
Make your Appointment Now!
Feel the Miracle Care!
About MIRACLE Aesthetic Clinic
Miracle Aesthetic Clinic was established in Indonesia in 25th July 1996. With 22 years of experience, Miracle is known as one of the most advanced beauty clinics in Indonesia with 19 branches in Jakarta, Surabaya, Malang, Denpasar, Kuta, Balikpapan, Batam, Makassar, Medan, Manado, Lombok, Yogyakarta, and Semarang. With the philosophy of 'The Art Behind the Science of Aesthetic', Miracle integrates cream program, medical treatments by professional doctors, and aesthetic treatments by the experienced beauty therapists, with high artistic method. Miracle always gives an optimal face and skin treatment with comfort, safety, hospitality, and privacy for its customers.
For further information, please contact:
Miracle Aesthetic Clinic Denpasar
Jalan Letda Tantular 47A - Renon
Phone: +62361 - 246148
HP: +6281 338 986 684
E-mail: regina.weking@miracle-clinic.com