Travel
Taman Wisata Selfie Ujung Kulon, A New Tourism Destination in Magetan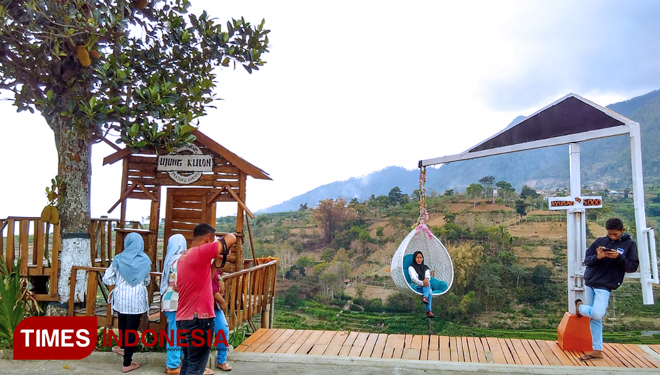 TIMESAUSTRALIA, MAGETAN – To those who like travelling, it will be incomplete if you have not visited Magetan as the vacation destination. In fact, Magetan has many interesting tourism potentials, such as Taman Wisata Selfie Ujung Kulon in Janggan Village, Poncol sub-district, Magetan, East Java, which is trending now.
In there, the visitors could enjoy the beauty of modern panorama. Moreover, the location is in the foot of Mount Lawu, which has cool air and evergreen scenery.
One of the staff in Taman Wisata Selfie Ujung Kulon, Hardi, said that Ujung Kulon is a hill with various modern photo spot that could attract the tourists, such as viewing posts with the shape of sunflower and butterfly, swings, small houses like the ones in Lord of the Rings movie, and so many more.
"Not only enjoying the cool and beautiful scenery, the visitors can also take many photos in various spots with the background of the slope of the evergreen Mount Lawu," he said on Sunday (25/11/2018).
According to him, on the weekends and holidays, Taman Wisata Selfie Ujung Kulon is always crowded with visitors who want to hunt photos or enjoy the picturesque scenery. Besides, the entry ticket has a cheap price.
"It is usually crowded on holidays. Most of the visitors are hunting for photos. To those who do not bring any camera should not worry because we have provided the professional photo service with affordable price. Then, the result of the photo could be sent directly through the smartphone," he explained.
Thanks to the local residents who have worked to develop the potential of their own village as the tourism village. As a result, they could establish Taman Wisata Selfie Ujung Kulon, which has been developed for two years and has become one of the favorite tourism destinations.
"This is the idea of the local residents, especially the youth organization in Janggan Village. Initially, there were only several tourism spots. But now, there is an increase in number, and they are crowded with visitors from various regions," he said.
Wahyuni, one of the visitors from Magetan, said that she was stunned with the beautiful scenery in this tourism village. Besides, the layout of Taman Wisata Selfie Ujung Kulon looks neat and clean. "The backgrounds for hunting photo are really interesting. The place is clean and neat. I hope Magetan could keep developing its tourism potential," she said. (*)