Sports
Captain Persela Recorded historical Engagement moment at Stadium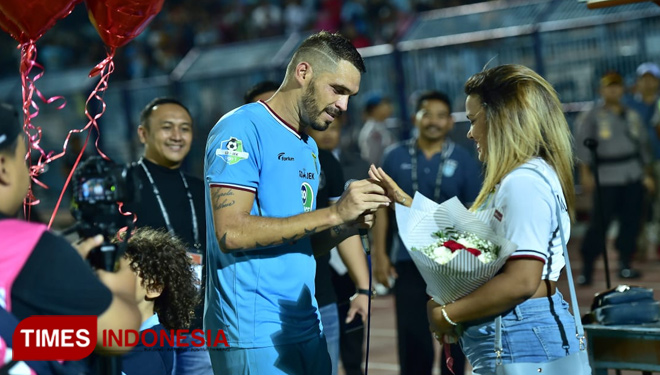 TIMESAUSTRALIA, LAMONGAN – Romantic scene was coloring the great victory of Persela Lamongan over his guest Arema FC with a fantastic score of 4-0. After the match, Captain Persela, Wallace Costa Alves proposed to his girlfriend.
Shortly after the long whistle blown by the referee signaled the match was finished, the foreign player from Brazil called his future wife who was in the stands.
After his future wife came down into the field, Wallace then knelt down to give the ring he had prepared, while saying the words of engagement to the woman named Bethris.
Wallace deliberately engaged to his future wife at the Stadium which was the pride of the Lamongan community, because he had considered Persela is like his own family.
"In my career this team has been like a family," Wallace told the media on Friday (11/16/2018).
That sense makes this owner number 4 want to capture his special moment with Laskar Joko Tingkir.
"This is a special moment for me. This is an unforgettable moment and I got married when I played in Persela," Wallace said.
The romantic engagement made by Wallace Costa Alves is the first time this has happened, because so far there has never been a Persela Lamongan player who applied for his lover at the Stadium after the match. (*)