Economy
OLAM Peduli Aid, to Support Economics Recovery of Sigi Residents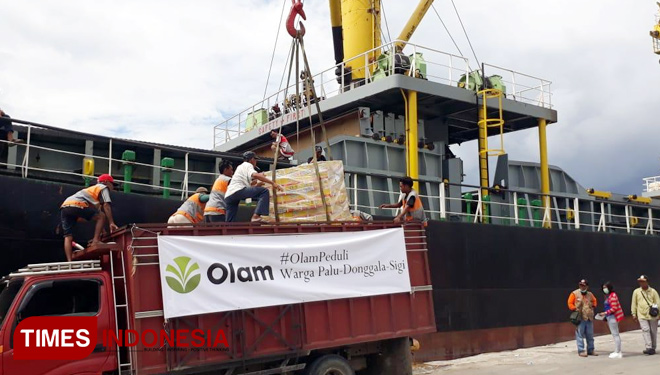 TIMESAUSTRALIA, BONDOWOSO – Several tons of aid were given by OLAM Peduli, for residents of Sigi Regency, Central Sulawesi, for those who survivors of earthquake and tsunami disaster, on 28 September 2018. It is intended to support the recovery of the local people's economy.
The aid sent was in the form of adult, infants and children clothing, mineral water, powder milk, tents, sleeping bags, and flashlights for lighting.
The aid of 4.39 tons was sent from OLAM Headquarters in Singapore, and arrived at Pantoloan Port in Palu, Sunday (11/11/2018), then it was given by OLAM Peduli Field Coordinator for Sigi, Moh Alwi, to the Head of Logistics Sigi, in Pantolan .
Imam Suharto, Head of Sustainability Olam Cocoa Indonesia, in Jakarta said that aid from OLAM International was part of a commitment to support the economic recovery of the Sigi Regency community.
"It is expected that food and clothing aid can help alleviate the economic burden on the Sigi community, so that they can do activities, to develop their economy," he said.
He also explained that PT OLAM Indonesia had conducted discussions with the Chairman of the BP3D and the Head of the Sigi Agriculture Office, regarding the synergy and role of Olam, in the recovery of the economy of local farmers.
Namely, he said, through an agricultural development program, specifically the development of cocoa plantation crops.
Meanwhile, Head of Agriculture Sigi Mulyadi Hiola explained that the cocoa land area is 27,600 hectares, which previously could produce approximately 18-19 thousand tons each year, and now also affected by the earthquake and tsunami.
Olam Indonesia's role, he explained, is really needed, especially to provide the quality seed, so farmers can return to be prosperous and be able to earn income from cocoa cultivation.
"I hope, Olam also provides extensive market access for cocoa beans from Sigi farmers. "PT Olam Cacao Indonesia is expected to be able to build nursery facilities with a capacity of 500 thousand to 1 million for farmers," he concluded.
On the other hand, through the telephone connection, Abdullah, the Head of Logistics Sigi said that on behalf of the government and the Sigi community, he expressed his gratitude to PT Olam International and Indonesia for their active role in paying attention to the community.
"This aid will certainly greatly help the people of Sigi Regency, Central Sulawesi in an effort to restore their economy. "Thank you to PT Olam and the OLAM Peduli Sigi team in Palu," he concluded. (*)