Education
The International Seminar by HMJ UIN Malang Discusses the Fourth Industrial Era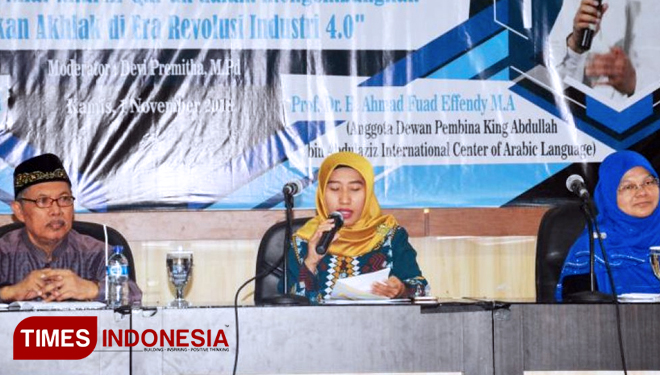 TIMESAUSTRALIA, MALANG – Entering the fourth industrial era, the world education is expected to equip the society with the moral values, especially Islamic values. This thing was delivered by Prof. Dr. Zahrah binti Hussain and Prof. Dr. Ahmad Fuad Effendy in the international seminar held by HMJ PAI UIN Malang on Thursday (1/11/2018).
Prof. Zahrah explained that the technology would always change, following the development of human science, as human beings always adapt with their environment. However, there will be also a problem. The educational experts were concerned about the disappearance of the moral values from the ancestors.
In fact, there are so many youths that are up-to-date with the technology, but they do not have a good attitude. As a result, their negative behaviors are exposed when they are interacting in the social media. "As a Moslem, we should not forget the Islamic values just because we are following the globalization," said the professor in the University of Malaya, Malaysia.
According to him, following the fourth industrial era should not be the obstacle to do moral values. With many kinds of technology, the people have more choices to share many positive things.
"Use the technology to teach other people to apply the values existing in Al-Quran," said the woman with the glasses.
Meanwhile, Prof. Fuad suggested that people should be open-minded in this fourth industrial era. The technology and its products should be an effective facility to teach the young generations.
"This sophisticated technology should be the facility to share the Islamic values to the youths," said the board member of King Abdullah bin Abdul Aziz International Centre of Arabic Language.
He also explained one of the benefits of being positive in the fourth industrial era is that we do not easily believe fake news. The digital information era should be the right place to double check the information that we have gained.
"That is called tabayyun in Moslem. I hope there will be no more people that believe in the small controversy when they have known the culture of tabayyun," said the graduate of the Darussalam Gontor Islamic Boarding School.
This international seminar became the opening of International Education Festival 2018 held by HMJ PAI UIN Malang. There will be various competitions between the study programs and PAI Olympiad in Java and Bali in this event. (*)