Education
Let's Have Coffee while Enjoying Poem Reading in Maqha Adab at UIN Malang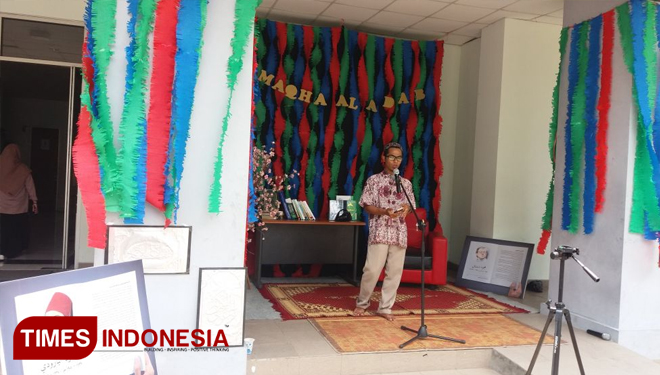 TIMESAUSTRALIA, MALANG – Faculty of Humanities at UIN Malang held Maqha Adab, an event in which the participants can have coffee while enjoying the poem reading, on Monday (1/10/2018). This event was an effort of Faculty of Humanities at UIN Malang to accommodate literature enthusiasts, especially poetry.
In this event, the participants could be from anywhere, not only from Faculty of Humanities at UIN Malang, but also from the other faculties and other universities. "The participants are students, lecturers, even the staff because literature is for everyone. The language of the poem could be any languages. The rector has read his poems for some times in this event," said Ustadz Anwar Mas'ady M.A, one of the mentors of Maqha Adab.
This event was held casually in front of Humanities Faculty building at UIN Malang. It was aimed to make the students of Humanities Faculty know better about literary works and to show that this faculty has many literature students. The most unique thing was there were free coffee for both the participants and audiences. That's why this event was named Maqha Adab from Arabic language. Maqha means the place to enjoy coffee, while Adab means literature.
This event was mentored by Al-Ustadz Dr. H. Halimi M.Pd, M.A, the head of Arabic Language and Literature department, Faculty of Humanities, UIN Malang. He was known as Halimi Zuhdy. For the information, Maqha Adab was held once a month or in certain moments. After the poem reading, he usually gave an analysis about the literary works presented in the event. (*)