Education
The Reasons why UIN Malang Deserves to be a World-class Campus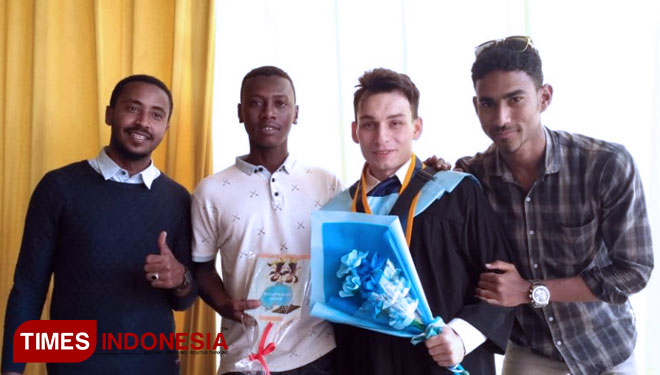 TIMESAUSTRALIA, MALANG – UIN Malang graduated its foreign students from Libya, Thailand, Malaysia, China, and Russia on Saturday (22/9/2018). The graduation of these foreign students showed the existence of UIN Malang as the world-class campus.
A student from Russia named Magomedov Magomed Amirkhanovich finally finished his bachelor study in UIN Malang. Although there were some obstacles during the study, he was still motivated to finish his bachelor study in UIN Malang.
Magomed said that he enrolled in UIN Malang by applying scholarship. Magomed was interested in majoring in Arabic Language Education study program. He also wrote the thesis about the method of Arabic and Indonesian Language Learning.
According to Magomed, most of his obstacles were caused by language difference. He had to be patient to finish his thesis in seven months. "Initially, it was very hard to speak Indonesian. I took 14 semesters to finish my study due to that problem," said Magomed to TIMES Indonesia.
Magomed's obstacles were overcome by the great supports from his friends who were also the students of UIN Malang. "I was motivated by my Indonesian friends who were already like family to me," continued Magomed with his Russian accent.
According to Mogamed, studying in Indonesia was an interesting thing. He really enjoyed living in Indonesia, especially due to the weathers. Magomed said that it used to be difficult for him to adapt with the Indonesian foods that did not match his taste. However, Magomed really liked the friendly people around him, including the campus environment of UIN Malang that always supported him.
Magomed also acknowledged UIN Malang as the world-class campus. "All students in here are treated the same, including me, the Indonesian students, or foreign students." Said Mogamed. After graduating from UIN Malang, he still did not have the further plan. But, obviously, he still wanted to enjoy his stay in Indonesia with his friends. (*)