Life Style
The Large portion of Delicious Udon Served in Ebisu Japanese Restaurant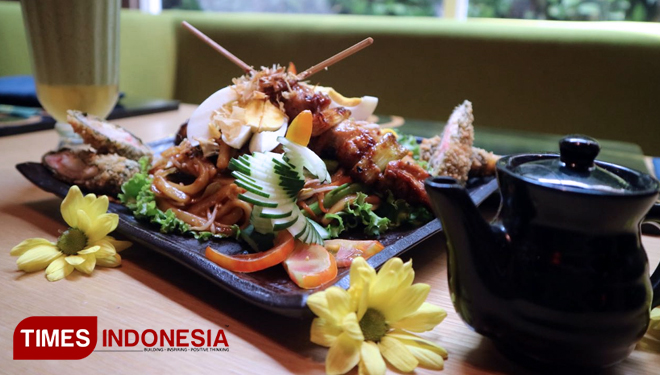 TIMESAUSTRALIA, SURABAYA – Ebisu Japanese Restaurant Mercure Grand Mirama Surabaya Hotel, launched a delicious culinary menu again for Japanese food lovers, Himawari No Yaki Udon. The taste of udon noodles is interesting because it is served in large portions.
About the taste, the savory spicy shakes the tongue. The combination of sea food roll (sushi) and chicken satay (yakitori) with carrot topping, onion, pre onion, mustard greens, mustard greens, chicken eggs and bean sprouts strengthen appetite. Plus the texture of chewy udon noodles, sprinkling of chili powder and chili slices, no one can resist to taste the delicacy of this food.
"Udon noodle is large noodle with chewy texture," explained Chef Didik Yudianto to TIMES Indonesia (timesindonesia.co.id), Friday (08/31/2018).
It priced at IDR 88,000 net / person or IDR 125,000 / 2 people, you will also enjoy a glass of Akeboshi Smoothies, a mixture of plantain with soft texture, one scoop of vanilla ice cream, ginger, two slices of pineapple, green tea, and three teaspoons of honey, blended with ice cube. This health drink is served with cinnamon garnishes.
"This is a health drink, it's soft and fresh, it's a bit bitter because of ginger," added the chef.
In addition to the new menu, Ebisu Japanese Restaurant Mercure Grand Mirama Hotel with a unique mural design of women dressed in kimono and chandelier also has the mainstay, Ebisu Teppanyaki Special Chef for IDR 199,000 nett / 2 people. Consumers can see the attraction directly from the chef in processing dishes. A complete meal with Appetizer, Miso Soup, Main Course, Yaki Meshi, Dessert and Ice Tea. (*)